Last year at this time Lit in the Last Frontier was a brand new blog with only a handful of followers, but I decided to institute an Alaska reading tradition, the IditaRead, and we had fun with it! Every year the famous sled dog race, the Iditarod, is run through the wilds of Alaska, and Alaskan readers at home challenge themselves to keep up with their favorite racers (called "mushers") by reading one page for each mile their team goes. Our children take part in IditaRead programs throughout the state in their public and home school programs. Libraries also offer IditaRead programs. I hope that you will decide to join us this year in this uniquely Alaskan tradition! The rules are super easy, you can jump right in, even in the middle of a book, and the whole family can do it! And there are some uniquely Alaskan prizes to be won!
IditaRead 2012
Here are the rules! It is really very simple:
You may read anything. Whatever book you are currently reading or planning to read will count.

The challenge is open to everyone, irregardless of age. If you are doing this with a child, just make sure the books are on their reading level. Books they read to younger siblings count, including picture books. If you read a picture book to a younger child, every three pages counts as one page for the adult reader. If you read a chapter book aloud to your children, it counts for

both of you

! Let's promote family reading!

Begin counting pages at 10am Alaska Standard Time on Saturday March 3rd. AST is one hour behind Pacific time. If you are a little late getting this message, make an honest guess.
You may begin counting in the middle of a book; in your first check in, just say, "I read pages 169-253", or whatever the case may be.
You may check in as often as you like, but the easiest way is to check in each time you hit the next check point. Below is the official route and checkpoint listing. As an example, say you post to tell me you have read 115 pages. I will let you know that you are past the Yentna checkpoint, and that your next checkpoint is 8 pages from now, when I will mark you as passing through Skwentna Station.
You do not have to check in that often. You can check in after 500 pages (or whatever), and I will tell you that you that you blew through Cripple and are 65 pages from Ruby.
You can also just look at the middle column of numbers below and tell me when you reach each checkpoint.
You need to report: book title, author, number of pages, one sentence about what you are reading at the time. If you want to take the time, a quick star ranking at the end of each book is nice.
This is obviously run purely on the honor system. I try to offer good prizes for three finishers to encourage honesty.
The actual Iditarod race is won in about a week, but this challenge will go for as long as readers are posting their pages read. Iditarod mushers have a never quit attitude-I hope IditaRead readers feel the same way!
What can you win? Cold Hands Warm Heart is my winner's book this year! It is an oldie but goodie by long time Iditarod favorite and four time champion Jeff King. He is a hero in our home and we look forward to sending his excellent book into some of yours.
First Place: Jeff King's Cold Hands Warm Heart (book) and an official 2012 Iditarod t-shirt

Second Place: Jeff King's Cold Hands Warm Heart (book) and an official 2012 Iditarod mug

Third Place: Jeff King's Cold Hands Warm Heart (book)
I have listed all the checkpoints consecutively on the "Checkpoints 2012" page, as this page was getting too long. If we fill up that one as well, I will start a second checkpoints page. As you reach each one I will enter your name. The only time it can be crucial to check in is toward the very end, if we have a couple of close runners, in which case I will go by the time you posted your message to determine the winner.
A fun added element is to choose an actual musher and try to keep up, reading as many pages as they travel in miles. If your musher has to scratch you can do one of two things-carry on in their name, or switch to a musher still in the running. My two favorite sites for following the race are:
http://www.alaskadispatch.com/section/iditarod-2012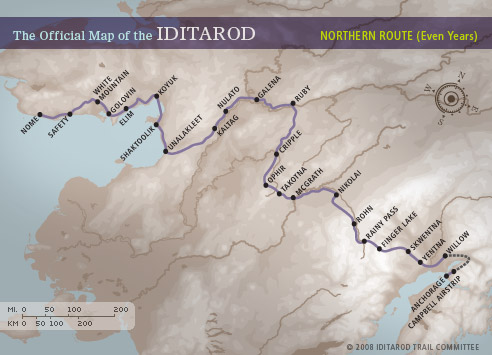 The northern route is run in even years, and the southern route is run is odd years. To read more about the Iditarod Trail and checkpoints,
go here
.